Motorsport – and Le Mans in particular – has long been a pioneering proving ground for new technologies. However, as the world zeroes in on net zero goals, reducing carbon emissions in such a high-performance environment for such a long period of time is a major challenge.
The race organisers are working with TotalEnergies to explore all the options and Romain Aubry, the company's Technical Manager – who was born and grew up by the Mulsanne Straight – explains: "There are many different technologies and we are not here to say that one is better than another.
"Le Mans is a unique platform for us to test new energy approaches and these include 100% sustainable fuels that were introduced last year; a battery solution we have co-developed with Peugeot and Saft, our affiliates; and a hydrogen refilling solution for MissionH24 project with big plans for the future."
Electric power has been pioneered in Formula E, where TotalEnergies is an EV fluid supplier, and has progressed from the early days when drivers had to swap cars even in short races due to a lack of charge to the current level where cars can run to the finish line and race distances are starting to lengthen.
Electric power, however, is not ideal for all forms of racing, due to the heavy weight of batteries. In endurance, the high speeds and long stints push the weight of batteries to the limit and to match the current performance of the top classes in a sustainable way requires a different approach.
Sustainable fuel
Last year, for the first time, the entire Le Mans grid was supplied with 100% certified* sustainable fuel and this will continue in 2023. The fuel, Excellium Racing 100, is made by TotalEnergies using local wine residue biomass and promises to reduce CO2 emissions by at least 65%** over its lifecycle.
Aubry explains: "We take the biomass and transform it into pure ethanol, then we transform this into hydrocarbons using a process called Alcohol-To-Gasoline (ATG). This is well-known and used worldwide and involves removing the oxygen atom from the compound to obtain pure hydrocarbon fuel.
#93 Peugeot Totalenergies Peugeot 9X8 of Paul Di Resta, Mikkel Jensen, Jean-Eric Vergne
Photo by: Nikolaz Godet
"The idea behind the project was to use local raw material and produce it locally. We have the Loire Valley, the Rhone Valley, or even Bordeaux, so there are a lot of different possibilities to source the wine residue and we blend the fuel nearby in the south of Lyon."
The challenge with sustainable fuels is that the process to develop the fuels uses energy. The most efficient type of fuel source for cars is electric, as the battery can store energy directly from renewable resources like wind and solar with minimal losses. However, the challenge is their energy density.
Hydrocarbon fuels are extremely powerful – providing 50 times more power than a battery for the same weight. In contrast, biofuels or synthetic fuels made from CO2 from the air and water, like those being pioneered by former F1 technical director Paddy Lowe, pack the same punch as petrol, but do so in a more sustainable way.
To make them, however, additional energy is needed to power the additional processing, and with that comes losses. The challenge is making these processes more efficient, so that as much energy as possible from the original renewable sources gets transferred into the fuel.
"When you bring one megajoule of energy, you have to consider how much energy you have left once it gets to the wheels," explains Aubry. "We need to look on the global yield for all the technology and sustainable fuel is something where the yields are very interesting for racing. So too is hydrogen."
Hydrogen project
On that note, plans for a hydrogen fuelled category at Le Mans are progressing fast. Mission24, a collaboration between the Le Mans organisers and Green GT, ran its H24 prototype in the 'Road to Le Mans' races last year and a full hydrogen category could be introduced as soon as 2025.
The H24 runs on a fuel cell, which combines hydrogen gas from the onboard tank and oxygen from the atmosphere to produce onboard electricity that powers the car. One of the biggest challenges to its introduction, however, is achieving a long enough stint time to make it competitive.
#93 Peugeot Totalenergies Peugeot 9X8 of Paul Di Resta, Mikkel Jensen, Jean-Eric Vergne, Stoffel Vandorme
Photo by: Paul Foster
Thanks to a ground-breaking refilling station developed by TotalEnergies, this is coming closer to reality and Aubry explains: "When the car first did a demo lap at Spa in 2019, I remember discussing with our motorsport Vice President about doing more with it, more than just a few laps.
"One of the main constraints was about the refilling as there were no tools to be able to refuel the car from track to track. At Spa, it arrived with a full tank and could only do few laps. To go racing, we needed to think about how to refill the car in the pitlane and that is how we started to get involved."
Since then, TotalEnergies has been working with the project's partners to lengthen the stint times. The key to achieving this is developing the technology to feed hydrogen into the tank at high pressure and keep it at pressure, so that the car can carry more, and the stint can run longer.
To achieve that length of stint in an electric car, especially with the speeds on the Mulsanne Straight, would push battery weights towards realms of impossibility, while the logistics of battery swapping to enable multiple stints in the same car are also hard to achieve.
Hydrogen use, however, has so far been limited by filling station size and fuelling speeds. A standard refuelling station in Europe covers a huge footprint and can only fill at a rate of 1kg per minute. Considering the H24 has 8kg in the tank – far smaller than a fully-blown Le Mans hypercar – that is extremely limiting.
"At those rates, you would need roughly seven to eight minutes to refill the car, so you already lost the race when you refilled for the first time," jokes Aubry, before explaining that TotalEnergies has developed a solution that fits inside a shipping container and can refuel far faster than the forecourt standard.
"Currently, we can refill at 2kg per minute, so we have already halved it," he adds. "We still need a lot of data on tank pressure and temperature to optimise it, but from the simulations we have, we are confident we will be able to refill in less than two minutes by the time the hydrogen category arrives."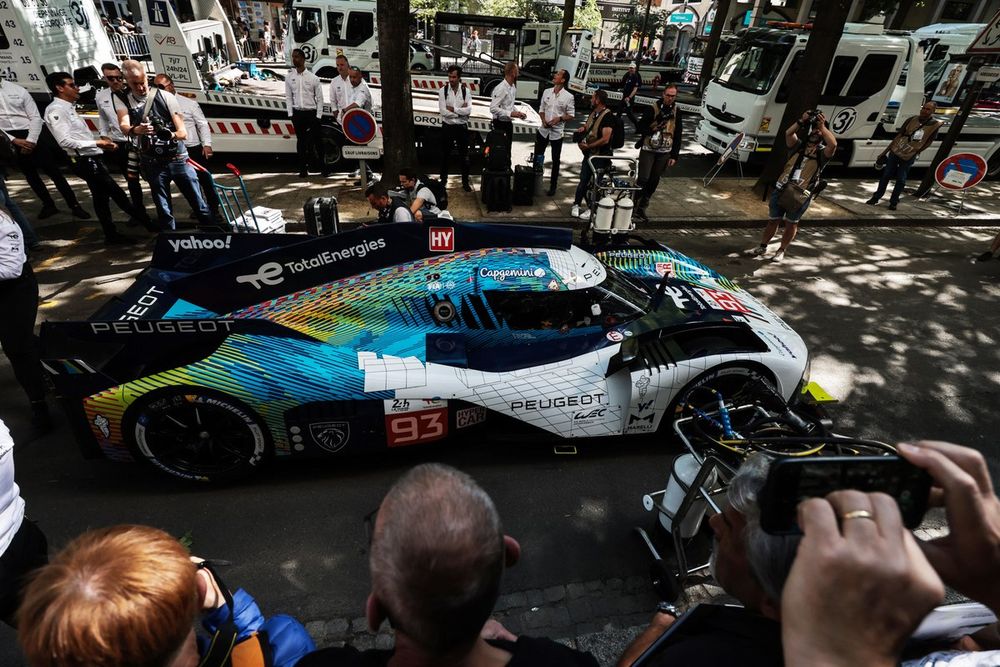 #93 Peugeot Totalenergies Peugeot 9X8 of Paul Di Resta, Mikkel Jensen, Jean-Eric Vergne
Photo by: Eric Le Galliot
The H24 is based on an LMP3 chassis and can achieve a comparable 300km/h top speed. The plan next is to trial an LMP2 chassis then a hypercar profile, targeting increasing lap times and performance while achieving acceptable stint lengths when the new hydrogen class, which will be to an all-new design, is launched.
This continuation of innovation expands on a heritage for TotalEnergies that has run for decades, including winning with Renault under the Elf brand in the 1970s. Le Mans is a race that means a lot to the company, and thanks to its recent work, it now seems to be ready for a bright and fully sustainable future.
*Excellium Racing 100 is a certified 100% sustainable product according to the mass balance system applied by a voluntary certification organisation approved by the European Union.
**In line with the methodology provided by the European RED II directive (2018/2001), Excellium Racing 100 can reduce greenhouse gas emissions by at least 65% compared to its fossil equivalent.
How Le Mans is using grape residues and hydrogen to drive a sustainable future have 1448 words, post on www.motorsport.com at June 8, 2023. This is cached page on Auto News. If you want remove this page, please contact us.