McLaren, in collaboration with Castore have put together a whole new range of clothing celebrating Lando Norris' home race at Silverstone – get kitted out with the Lando look!
The British driver is returning to Silverstone as one of the UK's leading lights in motorsport, and was set the task by McLaren of coming up with a new-look range of fashionable clothing for men, women and children to celebrate the best of British.
Always with his finger on the pulse of what's hot, the new LN4 range doesn't disappoint – a modern take on contemporary British culture that's now available to purchase.
Hoodies
A mainstay of any British wardrobe (how could it not be, given our weather?), Castore and McLaren have produced a huge range of different, and striking, hoodie designs.
Suitable for casual wear, as well as those more formal occasions, there are three different designs to choose from.
The staple of any hoodie collection is, of course, black, as seen in the women's version here. This range features a small white McLaren logo, with the Union Jack shown on the sleeves.
But, on the rear, LN04 is splashed across in big bright neon lettering – impossible to miss!
Lando is well known for liking flamboyant colour schemes, so harness your inner little rascal by going for the bright aqua blue design – identical to the black, but only using neon green for the LN04 lettering.
The 'sweetcorn' hoodie is our pick of the lot , with its creamy white colouring accentuating the softness of the material used. A small McLaren logo emblazoned right on the wearer's heart (where else?) is the only nod to F1 on the front, but the back shows where the allegiance really lies…
LN4 branding is on the back, done in Lando's favourite neon green, white and blue.
T-shirts
While a British summer is always a mixed bag, there are always those hot and sun-filled days that mean it's time to ditch the hoodie and show up in your favourite T-shirt.
The new Lando T-shirt range is offered in the same colour schemes as the LN4 hoodies . Can't decide between black, aqua, or sweetcorn ? Why not get all three, and complete the full range?
Caps
Now that you've decided on what to wear while out and about, it's time to accessorise with one of Lando's new cap designs.
The new Lando Norris Silverstone McLaren X New Era 9Fifty Pre Curve Snapback harnesses the serious side of our favourite McLaren driver, with the 'sweetcorn' off-white colour scheme showcasing his no-nonsense side.
But, get up close and personal, and the wilder side is very evident – the underside of the peak is fashioned with a bold and beautiful neon design that just screams Lando's fun-loving, jokey side.
The cap is flourished with LN4 branding on the side in neon blue, and a white McLaren speedmark on the front.
The t-shirts and hoodies are available for men, women and kids so get yourself to the McLaren Store now to kit out the full family. You can also enjoy a 10% discount on all orders if you're a McLaren Plus member.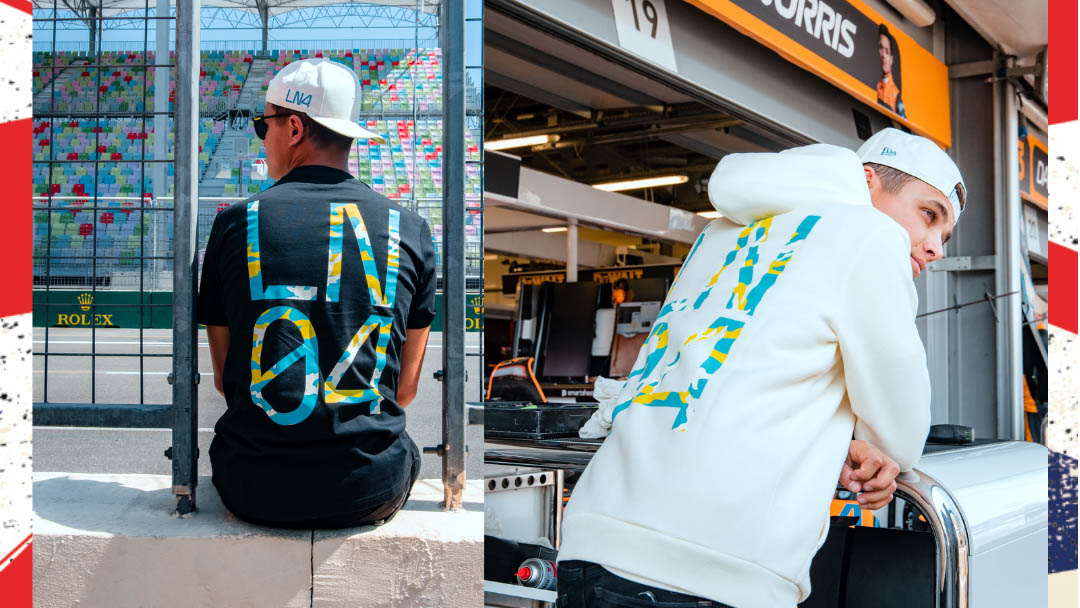 Castore x McLaren unveil new LN4 range ahead of British GP have 855 words, post on www.planetf1.com at July 1, 2022. This is cached page on Auto News. If you want remove this page, please contact us.