Pirelli have been seen rolling around a lawn-mower, line-painter hybrid type thing at recent rounds, and now they have explained why.
This device was first seen back in July at Silverstone before the British Grand Prix, and while it does indeed look like it should be used for mowing the grass, or giving the lines at the track a fresh lick of paint, it actually serves a far more important purpose for Pirelli's F1 operations.
In actual fact it is used to record the grip levels around the lap of each circuit, which in turn provides Pirelli with data to help with tyre selections and future constructions.
Manned by Pirelli engineer and ex- Williams employee Martin Wahl, who joined Pirelli in 2020, he takes the device for a data-collecting walk each race weekend, which is where the company's 'Doggy' name for it has come from.
As quoted by Motorsport.com , Pirelli's F1 boss Mario Isola said: "Martin came with a proposal to introduce it also for Pirelli activity and to collect additional data, ss you know, we measure the track roughness every circuit, on the Wednesday before the race weekend.
"We have a sort of 3D picture of the tarmac in different positions around the track. The difference here is that it is possible to measure the actual level of grip all around the circuit. So it's not just in a few points of the circuit, it's a continuous measurement. And it is giving us an idea of the level of grip of the circuit.
"And now, there is an ongoing activity in trying to correlate these measurements with other stuff, like truck roughness, like the level of grip that the cars are experiencing on track, if there is a correlation with the different types of compounds that we select for each event.
"We started using a laser to measure track roughness almost the first year that we were in F1, so we have now a database on circuits from 10 -11 years period.
"And it's also useful for us to understand the ageing of the track, because even if they are not going to re-surface the track from one year to the following year, you can see a change in these parameters, micro and macro roughness, there is an ageing.
"And it depends on how much the track is used during the year, the weather condition in that area from summer to winter, the type of tarmac that is used, and this is giving us a good information. But it is not complete.
"For example, one important element that is coming from the grip tester is the difference in grip from one corner to another corner, from the braking point to the exit of the corner, from the straight line, because clearly there is an influence of the cars running on track.
"And sometime we can see that in some corners the level of grip is lower, because with the cars running they make it more flat, or less abrasive, while on the straight line we have a higher level of grip.
"But on the straight line you don't really need the grip, because you don't have any grip limited point on the straight. And that's why we want to use this information in the future to make better correlations."
Of course looking at this contraption it is difficult to understand how exactly it comes up with the data for on-track grip, so Wahl himself offered a detailed explanation.
"There's a slip ratio between the rear axle and the front axle of 15%," he said.
"So from that it knows how much force should be there, from the longitudinal strain gauge in the front axle. And then based on how much resistive force it has, it then gives us a grip number from that.
"Basically the front tyre rotates 15% slower than the rear tyres through a chain. So you can't just rotate one of the tyres, they're all interconnected through that chain.
"You've got to hit a target speed when pushing it. We aim for metre a second just for ease – it's better to do the whole year at one speed then do different tracks at different speeds.
"You've got a gauge and you just hit that one metre per second, you've got a slight leeway. And if you are either side of that, then it beeps at you and tells you to speed up or slow down."
Currently the front tyre on the Doggy comes from the supplier, so Pirelli in future hope to develop a smaller version of their C3 compound for it, in order to generate data that is even more representative.
"We had this discussion before taking the tool, we believe that for this phase of the investigation, we prefer to use the rubber that is designed by the supplier, the tool is calibrated with that compound, which is comparable in different circuits," said Isola.
"We had basically two choices, one was to take this one, and the other one was to make a small tyre with our C3 compound, for example, that is an average compound, and use that.
"But then we were losing the reference from the supplier. And so for the moment we want to use the reference compound, and we get the data, and then try to correlate it with our compounds. But this is a post processing activity."
But one benefit of this stock tyre from the supplier, since it is calibrated to the device and is not particularly temperature sensitive, is that it is then more accurate in terms of factoring tyre temperature into the data.
So, if Pirelli were to make their own compound for it, then the issue is that the tyre temperature generated through the Doggy, would be far below what Formula 1 cars create on the full-size versions.
"That's exactly the point, our compounds work at a temperature higher than 80 degrees. And if you push the machine at one metre per second, you cannot keep 80 degrees," Isola stated.
"And so it's much better to use something that is already tested. And then post process the data in order to make a correlation with our compounds."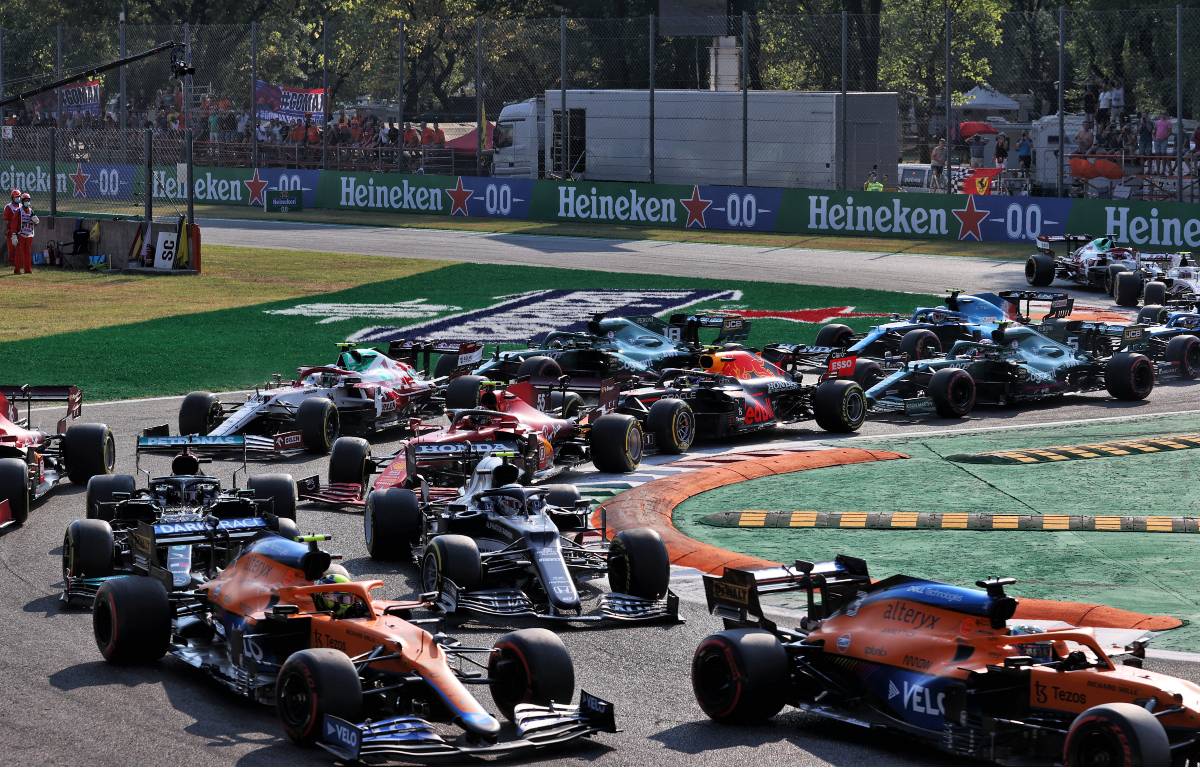 And to keep the data as accurate as possible, the Doggy walker Wahl tunes in to YouTube videos of previous F1 pole laps at the track, memorising them so that he can follow the racing line with the Doggy as closely as possible.
"What we do is we take the outside tyre, because if there is going to be any degradation of the time, that's probably where it will be," Wahl explained.
"I use pole laps on YouTube to do line analysis. I'll look at that the night before and memorise it and then work out where to go."
Of course with these grip-collecting missions taking place when the current Formula 1 cars are not in action, it can mean that Wahl's efforts are scuppered by other on-track activities, or even someone forgetting to charge the thing up!
"We did a run in Budapest on Sunday evening, and obviously Budapest is pre-shutdown, and everyone wanted to get out," he said recounting some of his more interesting walks with the Doggy.
"And I had lorries overtaking and it was about to chuck it down with rain. So that was interesting!
"And then on the Wednesday in Spa, I was halfway up Eau Rouge and there was an old F1 car that was doing filming from La Source up to Les Combes, so I had to stop and get someone to come and pick me up.
"The next time I tried it ran out of battery, because it hadn't been charged fully after Budapest. So I got around to the end of Sector 2 and started Sector 3 and it stopped. I think I did Spa about five times, including once in the rain!"
As expected this device does attract attention from the drivers and team engineers as they see Wahl plodding around the track with it, but he often refrains from explaining its main purpose.
"I often get asked what it is, and we coyly answer to say we're measuring the distance of the track, because it does do that as well," he concluded.
Pirelli explain their 'Doggy' grip device have 1631 words, post on www.planetf1.com at November 29, 2021. This is cached page on Auto News. If you want remove this page, please contact us.