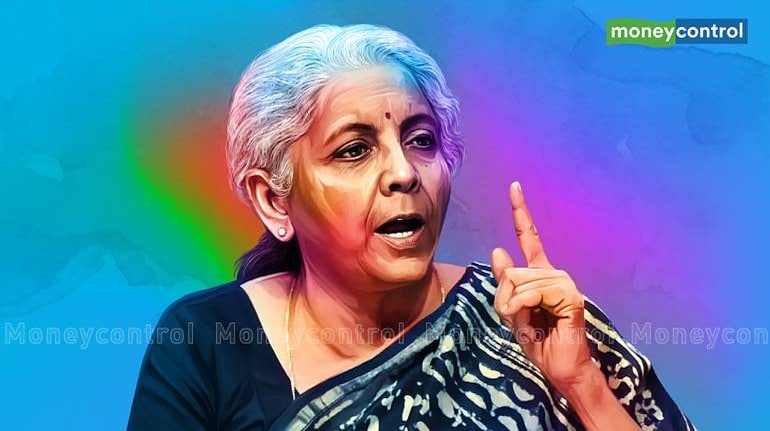 Finance Minister Nirmala Sitaraman.
India has not only faced the COVID-19 crisis with great resilience and fortitude but has also played a major role and "walked the talk" on the global fight against it, Union Finance Minister Nirmala Sitharaman has said.
Pointing out the fast recovery of India's economy, Sitharaman in her address to the Development Committee of the World Bank said the Modi Government, besides taking economic relief measures, has also undertaken significant structural reforms to turn the crisis into an opportunity and emerge stronger.
"The measures undertaken by the government have set a strong foundation for India's sustained economic growth," she said.
According to the International Monetary Fund's World Economic Outlook, India is estimated to be the fastest-growing major economy in 2021, projected to grow at 9.5 percent 7investment destination amongst global investors.
COVID-19 Vaccine
Frequently Asked Questions
View more
How does a vaccine work?
A vaccine works by mimicking a natural infection. A vaccine not only induces immune response to protect people from any future COVID-19 infection, but also helps quickly build herd immunity to put an end to the pandemic. Herd immunity occurs when a sufficient percentage of a population becomes immune to a disease, making the spread of disease from person to person unlikely. The good news is that SARS-CoV-2 virus has been fairly stable, which increases the viability of a vaccine.
How many types of vaccines are there?
There are broadly four types of vaccine — one, a vaccine based on the whole virus (this could be either inactivated, or an attenuated [weakened] virus vaccine); two, a non-replicating viral vector vaccine that uses a benign virus as vector that carries the antigen of SARS-CoV; three, nucleic-acid vaccines that have genetic material like DNA and RNA of antigens like spike protein given to a person, helping human cells decode genetic material and produce the vaccine; and four, protein subunit vaccine wherein the recombinant proteins of SARS-COV-2 along with an adjuvant (booster) is given as a vaccine.
What does it take to develop a vaccine of this kind?
Vaccine development is a long, complex process. Unlike drugs that are given to people with a diseased, vaccines are given to healthy people and also vulnerable sections such as children, pregnant women and the elderly. So rigorous tests are compulsory. History says that the fastest time it took to develop a vaccine is five years, but it usually takes double or sometimes triple that time.
Addressing the Development Committee meeting, Sitharaman said India has faced the COVID-19 crisis with great resilience and fortitude. The country's pandemic response has focused on the twin goals of saving both the lives and livelihoods, she said.
"When faced with the second wave of infections, India again mounted a carefully calibrated and dynamic response to the evolving situation. Given that the second wave was asynchronous in its onset across states and wider in its spread, only localised lockdowns were imposed during the second wave," she said.
This approach aided reduction in cases in the COVID-19 hotspots without dampening economic activity in regions with fewer cases, she said. "Despite a more brutal second wave, India's GDP grew at 20.1 per cent YoY during April-June quarter of 2021, recovering more than 90 per cent of the corresponding pre-pandemic output levels of 2019," she added.
The broad-based and swift recovery of both the demand and supply-side components reaffirms India's resilient recovery and strong macroeconomic fundamentals. "With the easing of the COVID-19 restrictions, GST collections for July, August and September 2021 have crossed the INR 1 trillion mark, which testifies to the fact that the economy is recovering at a fast pace.
The robust GST revenues are expected to continue in the coming months too as the economic recovery gathers momentum," the finance minister said. India, she said, is one of the frontrunners in the global vaccine deployment race with the second-highest total number of COVID-19 vaccines administered all over the world.
As of September 30, India has administered 951.35 million doses, covering 72.8 per cent of the 18 years (as on August 10, 2021) and above population with at least one dose of COVID-19 vaccine.
"India has also played a major role and truly 'walked the talk' on the global COVID-19 effort. India's massive Vaccine Maitri programme, under which more than 66.3 million doses of COVID-19 vaccines were exported to 95 countries worldwide bears special mention. India is all set to resume vaccine export in October 2021," she said.
India has faced COVID-19 crisis with resilience and fortitude: Nirmala Sitharaman have 877 words, post on www.moneycontrol.com at October 15, 2021. This is cached page on Auto News. If you want remove this page, please contact us.