This question has been puzzling observers of the Indian economy for the last five years. No satisfactory answer has emerged.
The more complete question would be: Who will be Mr Modi's Mahalanobis, the econometrician-economist who guided Jawaharlal Nehru's economic thinking, points out T C A Srinivasa Raghavan.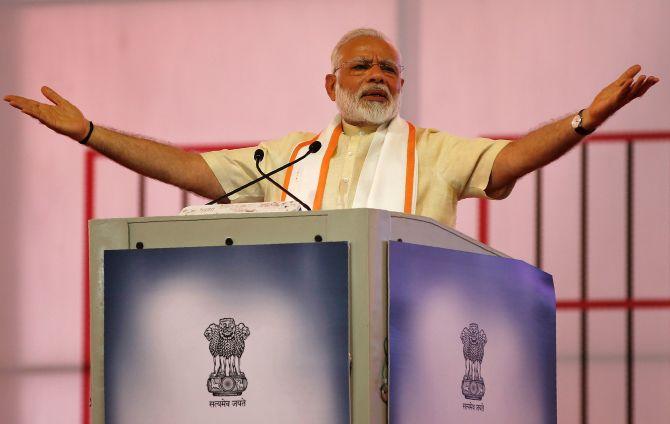 Photograph: Amit Dave/Reuters
A few days ago, Puja Mehra, an accomplished economic journalist, wrote an article asking who, if anyone, was Narendra Modi's A N Varma or Montek Ahluwalia or Bimal Jalan or Y V Reddy or Vijay Kelkar, bureaucrats who had helped former prime ministers.
Even Indira Gandhi, who, like Mr Modi, was wary of intellect, turned to P N Haksar, who gave economic shape to her political imperatives.
What Ms Mehra meant to ask was, from where Mr Modi gets his economic advice.
This question has been puzzling observers of the Indian economy for the last five years.
No satisfactory answer has emerged.
That said, the question, though necessary, is not sufficient.
The more complete question would be: Who will be Mr Modi's Mahalanobis?
P C Mahalanobis was the econometrician-economist who guided Jawaharlal Nehru's economic thinking.
It was he who developed the economic model for the Second Five-Year plan, which, growth-wise, was a great success.
And thereby hangs a tale.
It is worth recounting because it is so very apposite for India's economic vexations today.
In the four years after Nehru won the first general election so overwhelmingly, there had been very little visible economic progress.
Primarily, not enough jobs had been generated.
Also, the inflation rate was climbing.
Forex was running out.
The savings rate was a mere 5 per cent.
The Budgets had no headroom because revenues were stagnant.
The private sector had thrown in its hand, saying "we don't have the money to invest".
The banks were refusing to lend except to a few.
Politically, Nehru reigned supreme after defeating his critics in the party.
But members were quietly starting to grumble.
As with Mr Modi, everyone was getting very impatient.
It was in that overall context that the Congress passed the all-important resolution at Avadi in 1955.
It said the government would lead the way in the economy.
But the deeper problem remained: What to do next and whatever it was that was to be done, where to get the money for it?
Nehru turned to Mahalanobis for the first question and for the second, to T T Krishnamachari (TTK) — a businessman — whom he appointed finance minister.
Mahalanobis prepared the blueprint for growth and TTK raised the money for it.
The Second Plan was born.
It delivered good growth.
Modi's muse
Who will do all this for NDA II? While Nirmala Sitharaman is the perfect fit for the TTK-type revenue-raising role, you can't expect her to do a Mahalanobis as well.
She is completely honest and totally single-minded in doing whatever is required of her.
She will be effective and unpopular, which is just what you need of a good finance minister.
But it would be idiotic to blame her — or any finance minister — for not being able to produce investment because investment depends on far too many things for a mere finance minister to handle.
Indeed, it depends primarily on the prime minister.
Always, for investment to restart, a new economic view and a completely fresh perspective is needed.
Two periods — 1958-65 and 1992-96 — bear testimony to that.
Basically, such a view puts distribution on the backseat and brings growth upfront.
It is here that Mr Modi must play his role.
He needs to put aside his first-term approach to policy, which was to consolidate things.
Now the time has come for him to follow Nehru's example and look for growth.
For that he needs wisdom outside the circle he is familiar with.
He needs new ideas, which can come only from people who have brains and are capable of rationally structured thought.
He must set aside his suspicion of such thinkers and find someone to help him out of the hole the UPA landed India between 2004 and 2014.
This hole consisted, in part, of a massive loosening of the rules of economic governance, which Ms Sitharaman can be trusted to tighten.
But it is Mr Modi himself who must look around for a proper eminence grise for NDA II.
Nehru turned to Mahalanobis against the run of play those days.
The state had only a peripheral, regulatory role in economic activity.
Today the opposite situation prevails.
What Mr Modi needs, therefore, is an equivalent of the Avadi resolution but which is the opposite in content, saying that the state will step aside because it can no longer deliver.
And just as Nehru made the state the leading force, Mr Modi must make the private sector the leading agency for growth.
This will truly reverse Nehru's legacy, a project that is very dear to Mr Modi's heart.
Where does Modi get his economic advice from? have 876 words, post on www.rediff.com at August 15, 2019. This is cached page on Auto News. If you want remove this page, please contact us.