"I have a wounded foreigner on my balcony! Help me!" The caller to the Lithuanian emergency number sounded hysterical and complained of smoke coming out of the neighboring flat. When police and ambulances arrived, they found an injured man and a dead body inside. Another man with knife wounds was indeed on an adjacent balcony. The flat on the third floor of a nine-story Soviet-era residential building in the city of Kaunas, Lithuania's second largest, was on fire.
The police soon apprehended the suspect — a Ukrainian construction worker. After a party with other Ukrainians, a quarrel over money had erupted, ending in bloodshed and arson — a clumsy attempt to conceal the killing. In this country where murders are rare, the crime focused the public's attention on the recent phenomenon of guest workers — and the future of Lithuania and its identity.
Read more: How Germany became a country of immigrants
Lithuania's population was 3.7 million when the country broke free from the Soviet Union in 1991. Today it is closer to 2.8 million — and falling. Since they joined the EU in 2004, Lithuanians — as well as their Baltic neighbors — have been leaving in droves to work in more prosperous countries. The UK, Ireland, Norway and Germany are the favorites. Some sociologists project that by 2050 there will be only two million Lithuanians left in Lithuania.
Local businesses — especially construction, logistics and retail chains — have responded by extending invitations to workers from Ukraine and Belarus. The numbers rose in 2014 when the annexation of the Crimea by Russia and its intervention in Eastern Ukraine led to economic turmoil. Hundreds of thousands of Ukrainians went to abroad for work.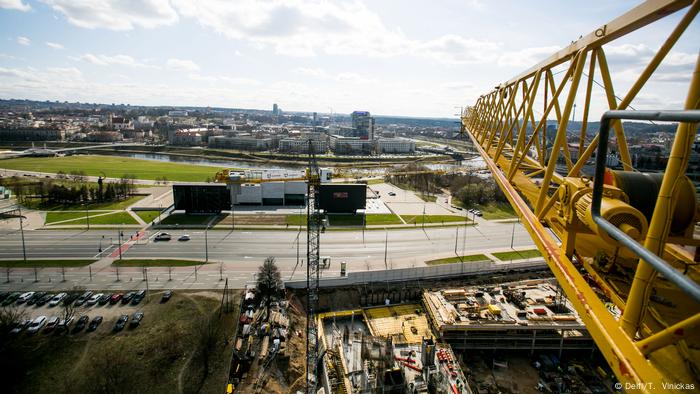 The building industry in particular recruits workers from abroad
Numerous factors make Lithuania attractive for Ukrainians. It is close, still has many Russian speakers and has been experiencing an economic upswing due to the 2015 introduction of the euro. The Lithuanian government is one of the staunchest supporters of Ukraine internationally. Since 2017, Ukrainians have no longer needed a visa to travel to Lithuania or other countries in the Schengen area, and Lithuanian consulates issue work permits without fuss and mostly free of charge.
According to the interior ministry, the number of Ukrainians with temporary residence permits increased in the first half of this year by more than 50 percent compared to 2017. There are also 20 percent more Belarusians and 8 percent more Russians. The absolute numbers are still small — slightly more than 54,000 foreigners live in Lithuania legally — but the impact is more and more visible.
The number of those seeking work without official permission has been gradually increasing in sync with legal immigration.
Thirty-eight-year-old Yaroslav comes to Vilnius from Kyiv regularly as a "'tourist." A trained massage therapist, he uses his stays here to earn much more than he would at home. "Look," he says, "an hour of massage here costs up to 70 euros ($82), depending on the class of the establishment. I can do it for 20, even 10 euros an hour — and it'll still be very good money." He says he is responding to a demand that was created by his Lithuanian colleagues leaving for other EU destinations. Eventually Yaroslav would like to come to Lithuania legally and open his own massage center.
Point of no return for Lithuanians?
But most Ukrainians and Belarussians do work legally in Lithuania. Some companies will pay up to 50 percent of their rent for their labor.
"My people are making up to €4.50 an hour and are ready to work for 10 to 12 hours a day," says Alexander, 42, who stewards a group of Ukrainian construction workers on the outskirts of Vilnius. "They will never get such money in Ukraine."
For some in Lithuania, this is exactly the problem.
"Guest workers are driving the salaries down. They do work that Lithuanians could do. So our people are leaving for Stavanger or Manchester," Laurynas Kasciunas, member of parliament from the center-right opposition party Homeland Union — Lithuanian Christian Democrats, told DW. "The Lithuanian state should support the family, make sure the population grows by increasing birth rates, and try to convince those who left to come back."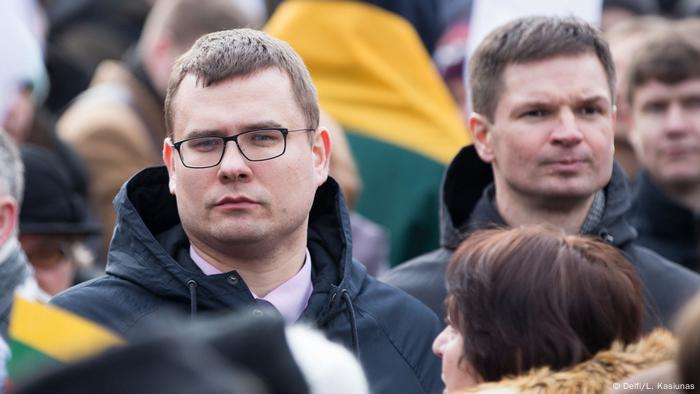 Laurynas Kasiunas says the state should do more to keep Lithuanians to look elsewhere for opportunity
"There is no scientific data to support the claim that Ukrainians and Belarussians are stealing Lithuanian jobs," argues Nerija Putinaite, a Vilnius University philosophy professor and former deputy minister for science and education. She is considered a liberal on immigration by many in the country. "Lithuanians started leaving for other EU countries 15 years ago, right after EU accession," she points out. "There were no Ukrainians here at the time."
Read more: Baltics offer 'budget' route into the European Union
Putinaite says it is wishful thinking to imagine Lithuanian emigrants returning home anytime soon. "Our government must make stronger efforts to improve integration — increasing language education for foreigners and giving bursaries to Ukrainian and Belarussian students, so they can study in Lithuania." But, she says, Lithuanians generally do not want too many foreigners to settle here.
This is a mindset Lithuania shares with other countries of Central and Eastern Europe, with their history rich in repression, resistance and survival.
"We as people lived through Polonization after the Grand Duchy of Lithuania united with the Kingdom of Poland in 1596," explains sociologist Vladas Gaidys, head of the independent Vilmorus polling agency. "Then came the Russian Empire with its Russification policies of the late 19th to early 20th century. Then it was the turn of the Soviets, with mass executions and deportations. It makes Lithuanians very protective of their national identity and statehood."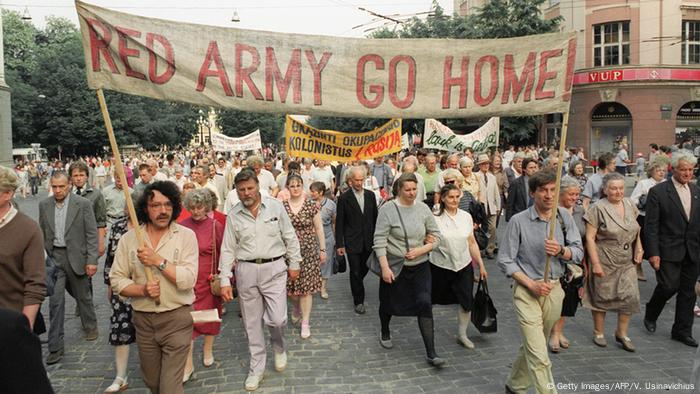 Lithuania was the first republic to declare independence from the Soviet Union, in 1990
No nationalists need apply … for now
The 2015-2016 migration crisis that had such a great impact on many European societies barely registered during Lithuania's most recent parliamentary election, held in 2016. The ultra-right Lithuanian Nationalist Union did not even come close to crossing the mandatory 4 percent threshold. The winners, the mildly euroskeptic Farmers and Greens Union, got to the top by promising better social welfare and salary hikes. In 2015, the Lithuanian government accepted a few hundred refugees, mostly from the Middle East, but they did not stay long.
Conservative MP Kasciunas, liberal philosopher Putinaite and sociologist Gaidys all agree that there would be a massive nationalist backlash should the country experience a significant influx of migrants from countries outside Europe. But there is little chance of such change anytime soon — such is the common view.
Read more: Lithuania: Alcohol loses its 'coolness' tag
"People from the Middle East and Africa find life hard in Lithuania," one interior ministry official said frankly, in a private conversation. "It is cold, welfare payments are small, and there are no communities of people from these regions, no relatives, few restaurants with familiar food. Why stay?"
For now, it means the topic of immigration isn't divisive in Lithuania. But as the country hemorrhages its citizens to more prosperous European locations, it will eventually become central to the domestic political debate — and force Lithuanians to face issues of migration and identity that don't appear particularly relevant now.
Lithuania recruits guest workers, leaves identity crisis for later have 1555 words, post on www.dw.com at January 17, 2018. This is cached page on Auto News. If you want remove this page, please contact us.